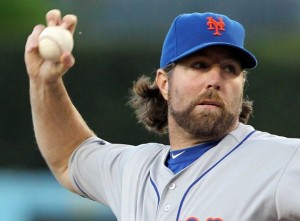 "A person will never outperform the image he has of himself."  – Maxwell Maltz
"Do you think it's a coincidence that when I stopped hiding as a person, I stopped hiding as a pitcher? I don't" -R.A. Dickey
I recently saw a segment on ESPN's E60,  about R. A. Dickey, who is dominating Major League Baseball in wins right now.  I was surprised to hear him tell his heartbreaking story that included childhood molestation that left him feeling broken his whole life.
At one point, his signing bonus out of University of Tennessee to the Rangers was dropped from $800,000 to just $75,000 due to discoveries made in a routine sports physical. It turned out that he is completely missing the  ulnar collateral ligament in his throwing elbow. When normal pitchers get a tear in that ligament, they have to get Tommy John surgery. In R.A.'s case, it doesn't even exist. (I'd call that being a miracle -child, but at the time, it was not a miracle.) It felt "like winning the lottery and then losing the ticket."
Shaking his head as he remembered it all, R.A. said, "It's just like my arm was a metaphor for my whole life: broken. As much as I tried to hide it."
That was way back in 1996. It has taken R.A. a long time to become the sensation that he is.
It wasn't until he healed his memories and his self-image that Dickey began to reach his full potential as an athlete, a husband and a child of God.
You and I may not ever become famous knuckleball throwers, but we all benefit by courageously facing our past, and rewriting the meaning of our story. Our lives can dramatically change when we see who we truly are, rather than buying into a disempowering belief we formed as a child.
Of course you will have moments when you doubt your self.
Here's a new concept: Choose to doubt your doubts about your self.
Doubt is simply the state of holding two incompatible beliefs at the same time.
"I can do this!"
"I am not good enough."
How do you doubt your doubts?
1. Become aware of them.
What exactly is it you are telling yourself, that is stealing your confidence?
Write it down. Put it into words, so it can no longer be a vague, lousy knot in your stomach.
Now look at those words. Then find out:
Do these words describe a belief that is empowering you or stealing your power?
Who taught it to you?
Is that a person you still admire and want to emulate, or have you grown to a place to learn from new mentors?
What might be a more encouraging belief for one created in the image of God?
In the posts to come we'll explore how to enlarge your self-image so it moves you closer to your God-given destiny. Until then you might want to grab a copy of R.A. Dickey's autobiography – Whereever I Wind Up.
Or, just grab a notebook and get to work on the assignment I just gave you.
Your life is a direct result of the actions you've taken up till now. Those actions were based on your beliefs. Want to change your life? Change your beliefs – starting with the beliefs you have about your self, and about your ability to shine in this world.
I'm in your corner!
Gina