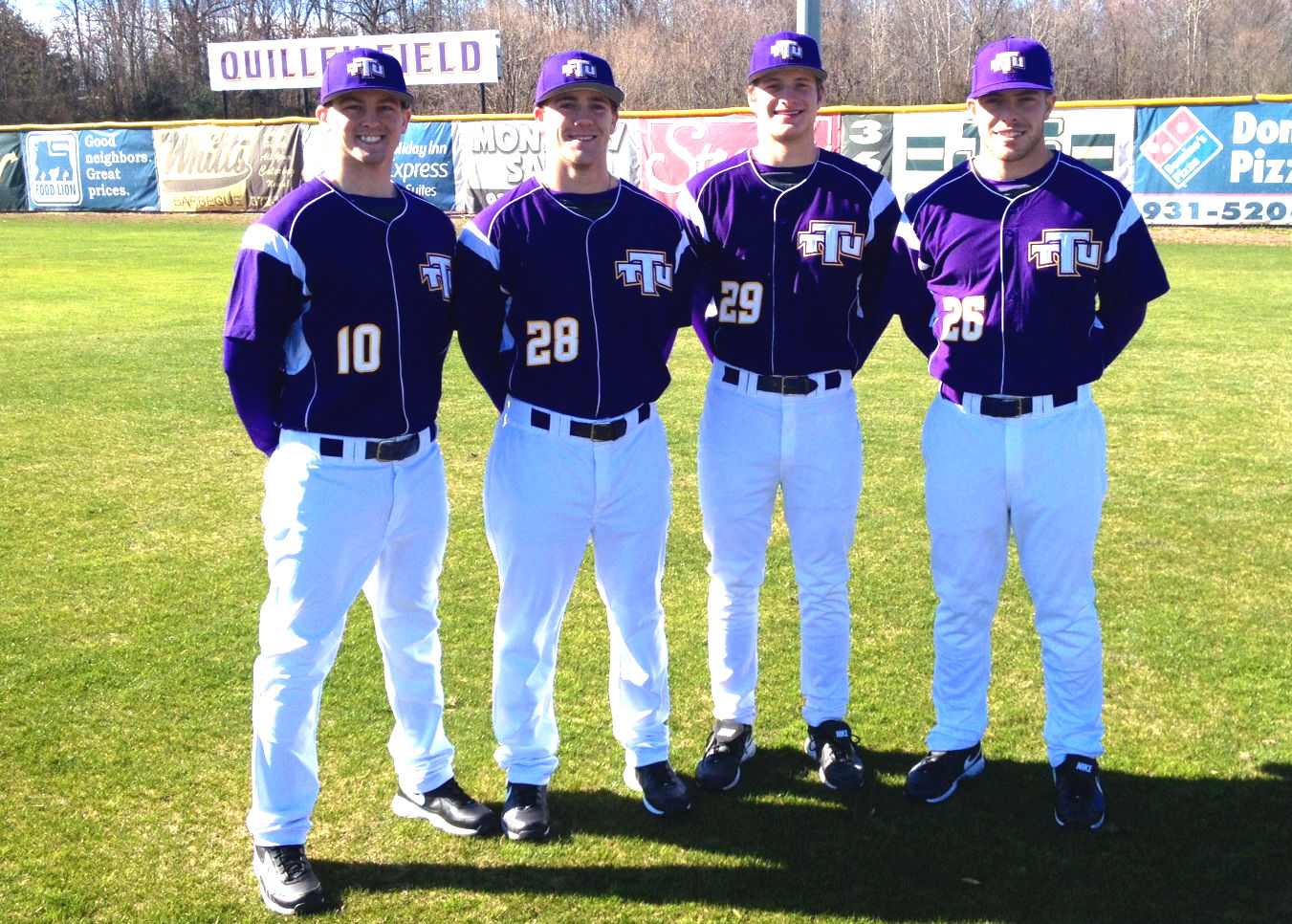 They went 4 separate ways after playing baseball at Tullahoma high school:
In 2009, left handed pitcher Josh Bryant took his JUCO scholarship at top-ranked Walters State, before heading to Cookeville. Then in 2010, pitcher Jacob Honea went to Motlow, where he excelled on the mound. Also in 2010, catcher Jordan Parris headed to Columbia State, where his senior season saw him pick off 18 runners and hit to a .383 average.  In 2011, Pitcher David Hess left Tullahoma to go straight to Tennessee Tech where he was named to the Ohio Valley Conference All-Freshmen team for his 51 strikeouts in 61 innings pitched.
Now the four Tullahoma standouts proudly don the purple and gold together for the Tennessee Tech Golden Eagles of 2013.
When asked what he thinks about his former players ending up in a mid-major Division 1 program, THS Coach Brad White smiles big,
"I am very excited for these young men. They were the foundation for the success we have had at Tullahoma. I can't wait to see them leave their mark on TTU as well."
About having his former teammates joining him, Hess says,
"I'm very excited about having Josh and Jordan and Jacob with me again. They all bring leadership both on and off the field that is so important for a great season."
Coach Matt Bragga, who is entering his tenth year as head coach at Tech, has only words of praise for his Tullahoma players saying,
"We are thrilled to have these 4 young men from Tullahoma. These guys are such quality young men first and foremost and all of them are great baseball players! Each of them brings something unique to our ball club that help make our team a special ball club. Amazing that Tullahoma High School could have all these young men on one team! I look forward to watching these young men have an amazing season!"
The players will tell you that their whole team has an amazing blend of talent and chemistry and they expect to continue to make us proud.
The Golden Eagles start their season Friday February 15, against Illinois in Cookeville. A complete schedule can be found here: Tennessee Tech Baseball Schedule 2013