Remember when Sex Was Fun?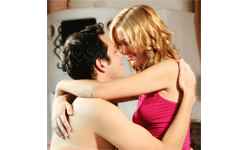 I have a question for my married readers:
Have you ever felt like the "Sexy" has left your Love Life?  Or that
the Fun Times have all but disappeared?

Well you may not know this 'cause I don't talk about it much over
here in the Built To Win Club, but I created a program to Make your
Marriage Sexy again.
It takes all the secrets I use with elite athletes, namely – managing
your mindset and mastering your ENERGY, and applies them to
winning your most intimate game – TONIGHT!
After all, what is the point of all this success we achieve if we can't
even hit a home run in the bedroom?
So, if you or your spouse is open to moving from AVERSE TO AROUSED
in about 20 minutes, than I have a Booty-licious Black Special for
you.
It's called "The Sexy Marriage Solution."  (For Great Sex When
You're NOT in the Mood)

Yes, the problem is that for various reasons, at least one of you is
NOT in the mood. For years in my marriage, that person was ME.
If anyone can help you here, I can!
Here's what I know for sure:

1. We ALL want connection, passion and intimacy in our marriage –
and you can experience more of that TONIGHT.

2. The steps that make se.x fun again will also make you healthier,
wealthier and happier.
3. The same tapping technique that gets rid of anxiety on the playing
field, can make you sexy, responsive and orgasmic! 
Plus…
4. YOU DESERVE to feel great – TONIGHT!
So here's what I want you to have:
– Instant Access to video coaching from me in three 20 minute
segments to HEAT THINGS UP NOW!
-Mp3's of the sessions
-Transcripts of all that you heard
– My personal guarantee
Look, I made this program for my girlfriends after having this
conversation a thousand times at the pool and wherever we
gathered. (Of course we talk about sex!)  It's been life changing
for my friends, and finally it's available for the public.
Oh yeah, and half the people who use it are men,
so that's good too.
Anyway – here's what you need to do:

1. Head over to THE SEXY MARRIAGE SOLUTION and
watch the video, or click on it & just read about it.

2. Scroll down to the bottom of the page with the video
on it and ORDER the program that will get you the results
you want as you simply follow along.
3. FOLLOW ALONG on the videos in the membership area.
(Of course you know me well enough to know they contain no porn!)
Okay now,
Take a deep breath, stop all this craziness, and go stir up some
passion!

I'll show you how.
I believe in you – and your marriage!
In your corner,
Gina
Quick – DON'T MISS OUT. This price won't last:
SEXY MARRIAGE SOLUTION

+++++++++++++++++++++++++++++
Gina Parris is an internationally sought-after
peak performance speaker and coach who
helps individuals and organizations all
over the world to reach their full potential – Joyfully!
www.GinaParris.com
(931) 461-7836
Are you reaching your FULL potential?